The first assembly step is installing a control horn on the bottom of the right aileron.
<<
The second step is sliding the wing into the fuselage.
<
*
After the motor struts come the pair of plain struts.
>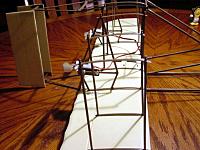 The outside most pair of struts has notches on the back for attaching strings to the top and bottom.
>>