The wings and horizontal stabs come bagged and safely packed resting on cardboard at the top of the box.
<<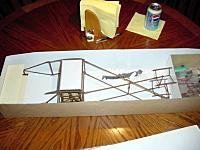 Under the wings is the fuselage secured in place by cardboard with other parts bagged and stored to the right.
<
*
The motors and gearboxes come already installed on the struts.
>
The battery comes with the plane. Note the plug, you will need a mate to charge the battery.
>>