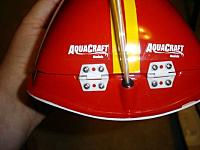 Hinges held that hatch on the back of the original boat.
<<
The front sealable hatch cover and it's opening. Notice the rubber seal.
<
*
The Reef Racer 2 sealed up and Velcro ready to latch onto the boat's top deck.
>
The water intake for the motor cooling systems and I am pointing out the opening for the Reef Racer 2.
>>