Gorilla glue used to reinforce the wing-screw plate. I want to make this a removable wing for easier transportation.
<<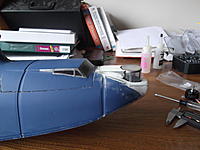 I shaved down the nose turret a bit more to make it a little lower profile. I thought it looked a bit bulky. Also blended the edges a bit with filler and sanding.
<
*
Another view of the previous.
>
Dry fit. Nowhere near done, but I just had to.
>>