Added the faux-landing gear at the rear. I cut a single wheel in half, sanded both halves flat and glued them on. Looks the part...
<<
Gorilla glue used to reinforce the wing-screw plate. I want to make this a removable wing for easier transportation.
<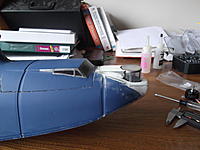 *
New nacelle fire walls to be gorilla glued together with the stock stick mounts.
>
Another view of the previous.
>>