Glassed the hull. Super light glass cloth and WBPU. A little sanding of the edges. I might put a couple more coats on toward the front for extra strength.
<<
Added the faux-landing gear at the rear. I cut a single wheel in half, sanded both halves flat and glued them on. Looks the part...
<
*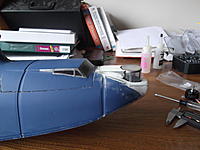 I shaved down the nose turret a bit more to make it a little lower profile. I thought it looked a bit bulky. Also blended the edges a bit with filler and sanding.
>
New nacelle fire walls to be gorilla glued together with the stock stick mounts.
>>