Target scheme. I've got some Canadian roundels for her.
<<
Glassed the hull. Super light glass cloth and WBPU. A little sanding of the edges. I might put a couple more coats on toward the front for extra strength.
<
*
Gorilla glue used to reinforce the wing-screw plate. I want to make this a removable wing for easier transportation.
>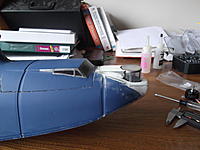 I shaved down the nose turret a bit more to make it a little lower profile. I thought it looked a bit bulky. Also blended the edges a bit with filler and sanding.
>>