Here is what you will receive when you order their Metric Assortment # 992.
<<
M4 container. This size of hardware will be found on .90-1.20 sized planes and greater.
<
*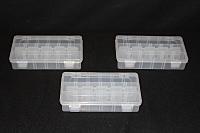 Three sturdy containers - one for each of the three sizes supplied.
>
Plastic dividers are in each container.
>>