the first step is installing the Wing spar, theres a pre-cut spar groove for the .8x3.2mm flat spar. It may need to be opened up just a touch to allow the spar to sit flush with the bottom of the wing.
<<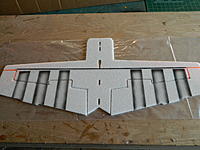 The spar is cut to size and ready to be installed. Please note I'm using a sheet of plastic as glue barrier to keep from gluing my model to the work bench.
<
*
After installing the spar I use a straight edge from Leading edge(LE) to trailing edge(TE) as shown to hold the wing flat as I put a drop of kicker every 3-5"
>
Rinse and repeat for the elevator spar.
>>