Painted parts ready for construction.
<
*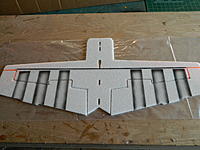 The spar is cut to size and ready to be installed. Please note I'm using a sheet of plastic as glue barrier to keep from gluing my model to the work bench.
>
A healthy bead of thick CA is run down the spar groove before the spar is installed.
>>