4. Wing with aileron servo fitted and control rod removed - 5g heavier.
<<
5. Lots and lots of holes. Note the wing is not glued to the rear fuselage.
<
*
7. Then glue with 30 min epoxy while other wing is still pinned in correct position.
>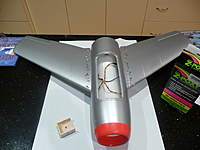 8. One wing gluing, the other only dry-fitted for alignment.
>>