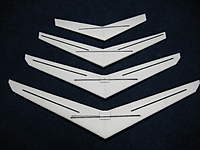 This is the flat carbon layout that broke. It was enough for the short wings but the wings got longer and it wasn't enough. It would probably have been OK if we had put it both top and bottom but we didn't.
<<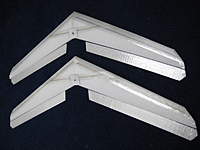 These are the narrow wing Titans with wood and flat carbon spars. These and the fiberglass sparred Grim Reaper are all strong, stiff and flying well in combat.
<
*
This spar system is supported by a shock cord, spars, and extreme tape on leading edge, over every spar and top, on elevons and bottom crossed on the motor mount and then a layer of 3mil laminate.
>
This is the only system I recommend. I built the spars this way for years then got too confident in the strength of flat carbon that wasn't as stiff and strong as I had supposed.
>>