The finished plane. I used Coverlite and not the orange tissue that came with it. For my first try at this type of covering. I like it.
<<
THe magnetic fastened hatch I made (Not in the plans)
<
*
My little 11mm motor. Not sure if it will have enough thrust.
>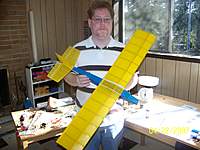 My partner holding the plane for scale.
>>