dark smoke is the first of many home to go.
<<
at sun set, the house was fine, so I went to our property about a mile north in the mtns. This is a Cat 824, getting ready for a new task
<
*
the guys to my right here are "Hot Shots" from Kern County. They saved my land and tousands of acres in the forest. standing at the "divide", as seen later.
>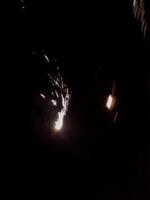 This is one of the tools that the Hot Shots use, its a magnesium flare shot from a pistol, good fun starting fires (fighting fire with fire). They understand Fire Science!
>>