<<
Here's the finished ''product''. I hot glued the balsa on the sides so that the battery would fit tightly into the battery box.
<
*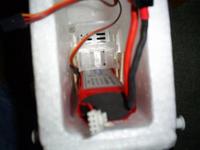 Here it is installed into the Super Cub. The battery is backwards in this picture (connectors supposed to be inside the battery box.
>
I glued a piece of balsa inside the fuselage and screwed on a velcro strap.
>>