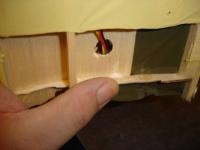 Using micro-balloons and thin CA as a gap filler I am restoring the strength to the bottom wing.
<<
The bottom wing has been repaired. It just needs covering.
<
*
There was mild damage to the firewall as well as the grill.
>
The top portion of the bottom wing. New covering, but needs to have the hot air gun give it the once over.
>>