The top wing's damage is with the wood for the cabane strut mounts. In front it pulled away from the spar and in back the mount broke off.
<<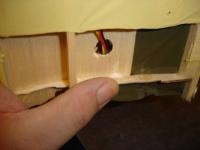 Using micro-balloons and thin CA as a gap filler I am restoring the strength to the bottom wing.
<
*
The top wing is broken at and near where the cabane struts attach on one side.
>
There was mild damage to the firewall as well as the grill.
>>