The instructions for the S.E.5a and the pilot.
<<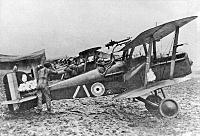 S.E.5a ready for action with Lewis machine gun on the top wing. Note how little rudder clearance there was from the ground on the real plane!
<
*
The big parts out of the bag.
>
The hardware that comes with the kit as well as the tail skid, before I added the carbon fiber rod.
>>